Dear Valued Alumni,
A very warm greeting from the College of Engineering Trivandrum Alumni Association!!!
It is our great pleasure to invite you to your alma mater for the alumni meet CETAA DAY 2023 on Saturday, 22nd July 2023 at Diamond Jubilee Hall, College of Engineering Trivandrum. The invitation card including the schedule is attached herewith.  We sincerely hope that you will be able to join us in the celebration and enjoy the day as well as connect with other alumni, current faculty and students.
We are happily waiting to receive you along with your spouse/companion on 22nd July 2023. We are sure that you too will be delighted in catching up with your batch mates and friends on this occasion.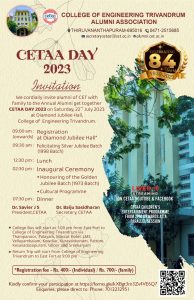 Kindly confirm your participation at: https://forms.gle/kXBgt3rn3Zv4VE6Q7
Look forward to seeing you at the CETAA Day.