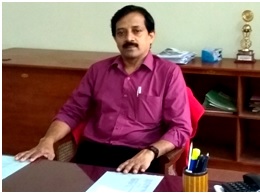 Dr.S.Jayakumar

Contact
email: deanpg@cet.ac.in, jayakumar@cet.ac.in

Office Phone: +91-471-2515 571
Qualifications
B. Tech – Mechanical Engineering (University of Kerala)
M E – Aerospace Structures (IISc Bangalore)
PhD – Structural Analysis Using Non-Conforming Finite Elements (Dept. of Ship Technology, CUSAT)
PGDM – Marketing Management, IGNOU
PGDM – Finance Management, IGNOU
Area of Interest:
Machine Design and Structural Analysis.
Finance Management including Stock/share/Option Trading and Portfolio Management.
Human Resource Management.
Marketing Surveys.
Professional Experience
Administrative Experience:- i. 2 Years – Principal- College of Engineering- Kidangoor. ii. 3 Years – Director, SPFU (Kerala)
Teaching: 24 years- Various Govt. Engineering Colleges.
Industry: 1 year – Technical Service Dept. – Petro-Chemical Refineries
Other contributions
State Coordinator of TEQIP II, a World Bank funded Project envisaged by MHRD
Doctoral Committee Chairman of Research Centres- NSS Engineering College, Palghat and Sree Budha College of Engineering, Pattoor.
Doctoral Committee Member in Ship Technology Dept. CUSAT, School of Management CUSAT, Sathra Deemed University Thanjavur.
Curriculum Committee Chairman in Aeronautical Engineering, Mechanical Engineering various Universities.
Passing Board Chairman B.Tech Mechanical Engineering, Institute Placement Officer, PTA Secretary, Dept. Accreditation Coordinator, Bus Secretary, and Head of the Department etc in various Engineering Colleges.
Selection Committee Member for Faculty and Technical posts in NITs, Various aided Engineering Colleges, KPSC, Public sector Industries etc
BoG Member in different Institutions.
Visiting Faculty in B.Pharm Courses MG University
Member of various inspection teams and enquiry committees of AICTE, Different Universities, State Govt., Academic Auditor etc.
Actively associated in getting the approvals from various statutory institutions like AICTE, Universities, Local Bodies etc for starting the new Engineering Colleges.
Actively participated in setting up of new laboratories for UG and PG classes.
Awards and achievements
Fellow of Temasek Foundation – NUS (National University of Singapore)
Best Faulty award 2007 RIT Kottayam
Best Faculty award 2008 RIT Kottayam