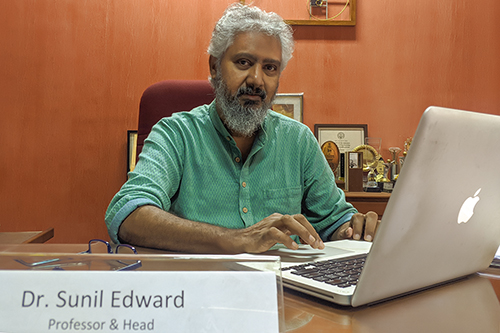 Dr. SUNIL EDWARD.

Contact
email: deanpg@cet.ac.in,

Office Phone: +91-471-2515 571, 9447533202  

 
Qualifications
B Arch, M Arch (Hons.), Ph.D.
Specialization: Sustainable Architecture
EDUCATION:
B.Arch. (1990) from Mangalore University, Master of Architecture (Hons.) (1999) from Department of Architecture, University of Roorkee and Ph.D. (2006) from Indian Institute of Technology Roorkee.
EXPERIENCE
Had the honor of working as an Architect in ESDC (A centre for eco-sensitive and Sustainable development), Ernakulam, from August 1990 to September 1995, in association with Padmashree Dr. Laurie Baker.
Joined Department of Architecture, CETas Lecturer in 1995. And worked as faculty in CET, Trivandrum, Govt. Engineering College, Wyanad, Govt. Engineering College Trichur and Rajiv Gandhi Institute of Technology Kottayam.
MEMBERSHIP IN PROFESSIONAL ORGANISATIONS:
Life Member : The Indian Society for Technical Education Associate : The Indian Institute of Architects
Life Member : Indian Society for Construction Materials & Structures
Member : Council of Architecture
Member : National Geographic Society