Prof. Jain K George. B.Arch, M.Planning (Housing)
Assistant Professor,
Department of Architecture,
College of Engineering Trivandrum (C.E.T.).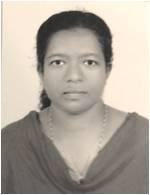 B. Arch (1994-1999) TKM College of Engineering, Kollam, worked in COSTFORD(2000-2001), M. Planning (housing) College of Engineering Trivandrum (2001-2003), Worked in MES School of Architecture( 2004-2009) as Lecturer and Senior Lecturer, Worked in DG College of Architecture as Course head and Assistant Professor.
PhD on going
Area of interest
Housing, Urban governance, participatory development
Awards/ Recognition
Best outgoing student &1st rank for M. planning (housing) 2003
Recipient of Sarasija Thampuran Memorial Endowment 2003
Career Profile
Worked in COSTFORD from 2000-2001
After completing PG joined MES College of Engineering in 2004 and worked till 2009.I had been the group tutor and thesis coordinator. I have guided several student theses and dissertations. Taught various subjects like architectural design, town planning, climatology, Building construction etc.
In DG College of Architecture, I have been the course head as well as group tutor, training coordinator, design faculty etc. Handled subjects like Theory of design, Building construction and Basic Design.
In College of Engineering Trivandrum handled classes for
B. Arch course –Building construction and structural systems for S3, S4 and S6, cost effective technology, Architectural Design for S5, S6, S8 and S9
Post Graduate course -Sustainable settlement planning, Planning Legislation, Planning Institutions and Governance, Planning Studio-III, Urban planning history theory and systems
UG thesis- 8 UG dissertations- 8
PG thesis – 4 PG Dissertation- 4
Published 3 international papers and 5 national papers
Presently thesis coordinator and handling the subjects environmental planning, Urban planning history, theory and systems, Architectural Design for S5 Was a team member of NRUM consultancy group for Aryanad –Vellanad Cluster.