Power Electronics Research Lab
1. Two level inverter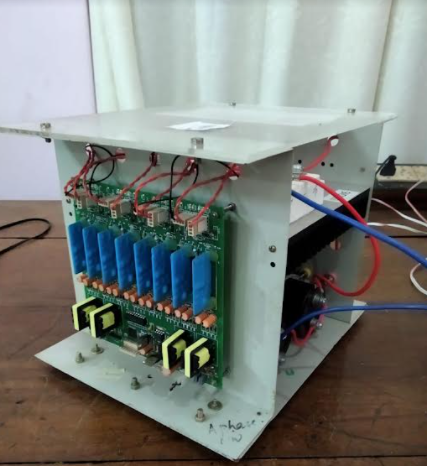 Make : 1200 V, 75 A IGBT inverter module
Application : UPS, AC drives, HVDC transmission
Standard Features: Two level inverters are dc-to-ac power converters, capable of generating an output voltage or a current with levels either 0 or +-V. They are commonly used in adjustable speed drives to produce output with desired frequency and voltage.
2.Cascaded 3-level Inverter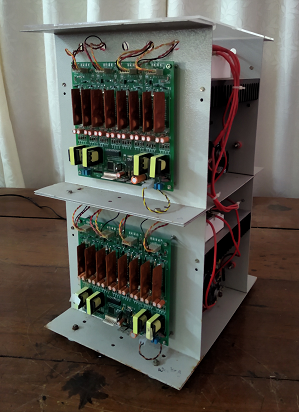 Make : 3-level inverter is realized by cascading two 2-level 11kVA inverters.
Application : High voltage and medium voltage motor drive-Active filtering-variable speed motor drives
Standard Features: The DC link capacitors in this circuit do not carry the load currents and hence the voltage fluctuations in the neutral point are absent compared to conventional neutral point clamped 3-level inverter. Also, the circuit configuration needs two isolated power supplies compared to H-bridge topology, which requires three isolated power supplies to achieve 3-level inversion.
3. Logic Analyzer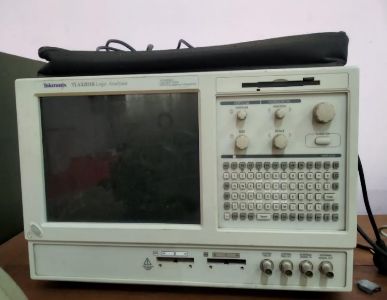 Make :Tektronix TLA5201B Logic Analyzer
Application : Many digital designs, including those of ICs, are simulated to detect defects before the unit is constructed, using logic analyzer. Field-programmable gate arrays have become a common measurement point for logic analyzers and are also used to debug the logic circuit.
Standard Features: A logic analyzer captures and displays multiple signals from a digital system or digital circuit. It convert the captured data into timing diagrams, protocol decodes, state machine traces, assembly language, or may correlate assembly with source-level software. Logic analyzers have advanced triggering capabilities, and are useful when a user needs to see the timing relationships between many signals in a digital system.
4. Mixed Domain Oscilloscope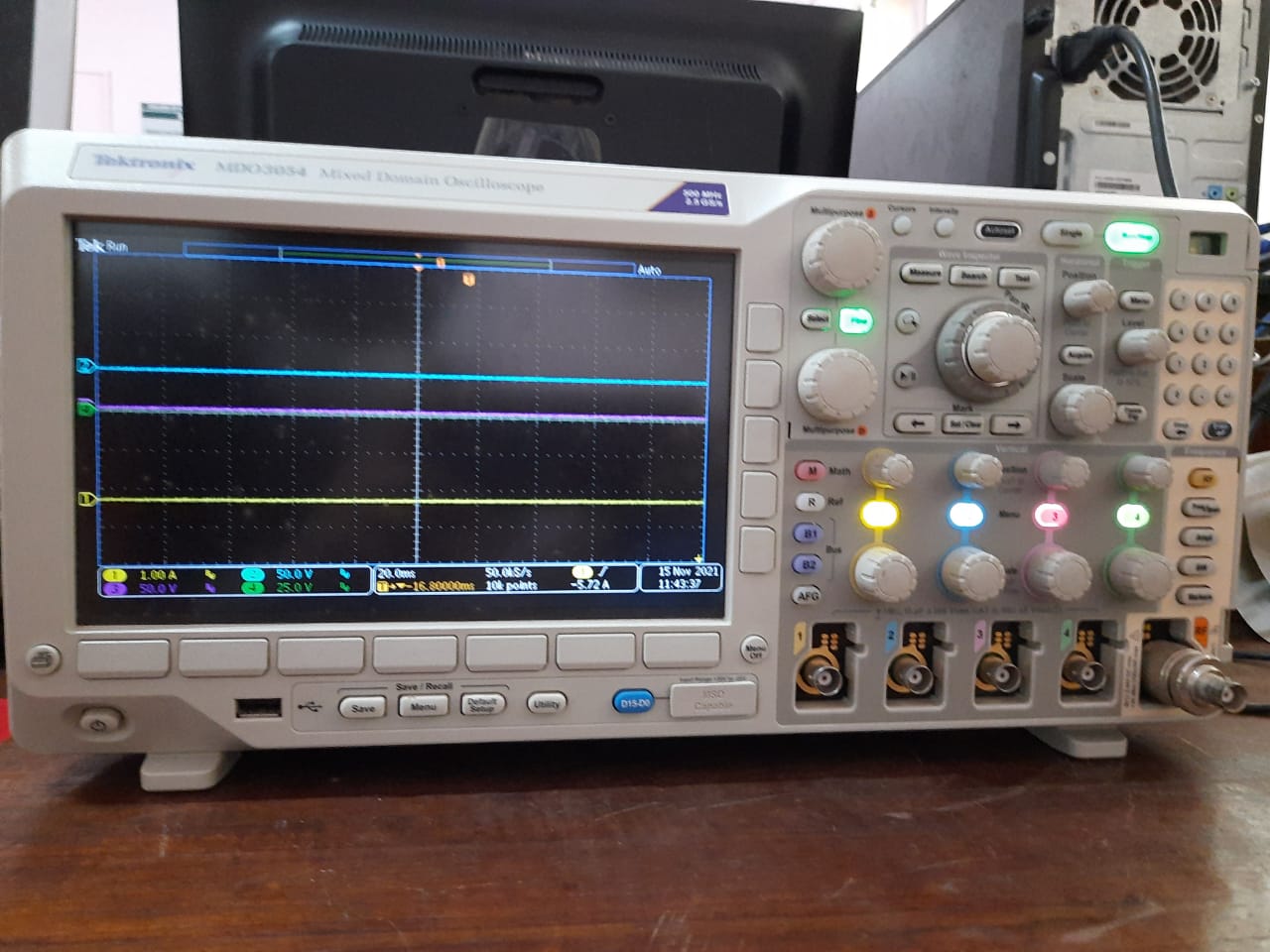 Make :Tektronix MDO3054
Application : Mixed Domain Oscilloscope features up to six integrated instruments, including options like a spectrum analyzer, function generator and more, giving you the ability to capture analog, digital and RF signals with one scope. You can even add instruments, analysis functions and upgrade bandwidth as your design challenges evolve.
Standard Features: The MDO3054 is a MDO3000 series mixed domain oscilloscope with 500MHz bandwidth four analogue channels and one 500MHz spectrum analyzer input. This mixed domain oscilloscope gives fast acquisition, selection record lengths and full suite of automated measurements help solve debug challenges quickly. It complies to UL61010-1:2004, CAN/CSA-C22.2 No. 61010.1: 2004, low voltage directive 2006/95/EC and EN61010-1:2001, IEC 61010-1:2001, ANSI 61010-1-2004, ISA 82.02.01 safety standards and EC council directive 2004/108/EC electromagnetic compatibility
5. Isolation Transformer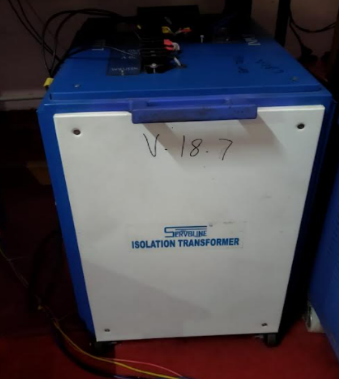 Make :3.5 KVA Isolation Transformer
Application : Isolation transformers are used for isolation in pulse circuits, in electronics testing and servicing etc.
Standard Features: An isolation transformer is used to transfer electrical power from a source of alternating current (AC) power to some equipment or device while isolating the powered device from the power source, usually for safety reasons. Isolation transformers provide galvanic isolation; no conductive path is present between source and load. This isolation is used to protect against electric shock, to suppress electrical noise in sensitive devices, or to transfer power between two circuits which must not be connected. A transformer sold for isolation is often built with special insulation between primary and secondary, and is specified to withstand a high voltage between windings.
6. Five Phase Induction Motor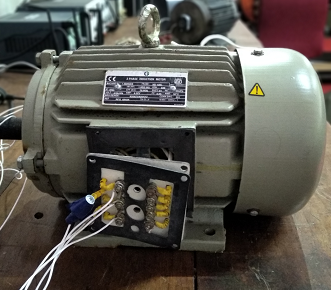 Make: 3 hp Squirrel Cage Configuration.
Application : Electric ship propulsion, Electric aircraft, traction (including electric and hybrid electric vehicles)
Standard Features: Squirrel Cage Induction motors are cheaper in cost compared to Slip Ring Induction motors with rugged construction and less maintenance. Because of the absence of slip rings, brushes maintenance duration and cost associated with the wear and tear of brushes are minimized.
7. Three phase induction motor with open end winding configuration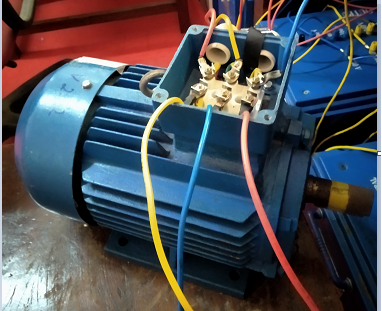 Make:3 hp Squirrel Cage Configuration
Application : Pumps, Compressors, Fans, Mixers, High speed vacuum cleaners, Drilling machines, Paper mills, wells etc.
Standard Features: Squirrel Cage Induction motors are cheaper in cost compared to Slip Ring Induction motors with rugged construction and less maintenance. Because of the absence of slip rings, brushes maintenance duration and cost associated with the wear and tear of brushes are minimized